When it comes to hands-free listening, you can't get much better than a wireless pair of earbuds. However, balancing the quality of these earbuds can be tricky when you're on a budget.
This is because a lot of the product cost goes into creating a fireless signal that can be transmitted from your phone or other devices to your earbuds.
Wireless earbuds, although typically more expensive than traditional earbuds, come with a wide array of benefits.
Best Bluetooth Wireless Earbuds 2023 Under 100
Since there's no cable involved, wireless earbuds are easier to move from one place to another. You won't have to worry about accidentally tangling your cord either— Wireless earbuds are as neat as they come.
While you'll have to make sure to charge these earbuds a regular basis, these audio devices are still well worth your time.
With modern technology, wireless earbuds can sound as good as their wired counterparts— Or even better.
If you're on a tight budget, not to worry, below we'll dive into some of the best wireless earbud options currently available on the market.
We've rounded up the best of the best so that you can find the right earbud pick with no trouble at all. With a variety of styles, sizes, and overall sound quality, you're bound to find the perfect pick for your needs.
Without further ado, here are some of our favorite wireless earbuds currently available on the market that won't break your budget.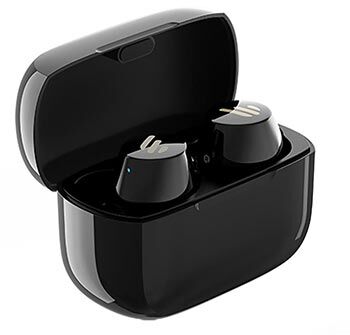 These wireless earbuds look somewhat reminiscent of Apple's AirPods and sound just as good at less than half the price.
The earbuds can also be used on Andriod devices, and support a super stable wireless connection, so you won't have to worry about your sound cutting out while you're working out or moving around.
I love how lightweight these earbuds are and how you get three different sized ear tips with your purchase for added customization.
These wireless earbuds are also fully water-resistant, making them a great choice for gym workouts or just jamming out on a hot summer's day.
The earbuds hold around an 8-hour battery life with a 1.5-hour charging cycle. Therefore, if you get these earbuds, you'll definitely want to make sure that you charge them overnight so that you're not left without your music during the day.
In terms of sound quality, these earbuds have a largely neutral output. There is a slight emphasis on the low-end frequencies, so you might see a little more of an exaggerated bass.
The instrument separation of these earbuds is surprisingly noticeable, so you're definitely getting impressive sound quality for the cost.
While the microphone quality on these earbuds isn't great, it's still there— You can use these earbuds to make or receive a call in a pinch.
Notably, these earbuds also offer active noise cancellation. While it is somewhat weak, it will cut out some of the high tone frequencies surrounding you making for more clear sound output in busy outdoor settings.
The overall look of these earbuds is sleek and chic, making it perfect for use anywhere from the office to the gym.
Though you'd never want to drop your earbuds if you can avoid it, this set can handle an accidental tumble or two without any issues.
Overall, these are some of the best wireless earbuds you can find for the price. Like any set, it has its shortcomings, but ultimately it's an excellent value for the price, perfect for everyday listening.
Pros:
Neutral sound output
Comfortable fit
Great value
Cons:
Related Post: Best wireless headphones under 100 bucks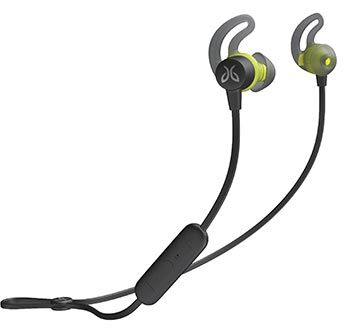 While these earbuds are not fully wireless, they don't have the cumbersome cord of fully wired earbuds. With this compromise, you get pretty impressive sound quality for such an affordable wireless earbud.
The earbuds clip seamlessly on your ears and have embedded playback controls for handsfree music navigation.
Notably, these earbuds also have a built-in microphone so that you can easily make and take calls while wearing this headset.
Though these earbuds have a short battery life of about 6 hours, the sound quality is pretty astounding, especially for the price.
The ear tips are slightly angled making them well suited for embedded sound isolation while listening in.
You can also adjust the equalization of these wireless headphones using the compatible Jaybird app.
These earbuds do have a bit of extra emphasis on bass and low-end frequencies, but you can also adjust that according to taste if that's not your style.
The earbuds are water-resistant as well and stay firmly put while in use. These are clearly a great pick for use while at the gym or on the go.
You can use Google Assistant or Siri while using these earbuds as an added bonus.
Overall, these earbuds are perfect for any active user. With embedded playback buttons and great sound quality, you're bound to love using these on a regular basis.
While these aren't a truly wireless option, they still make an excellent deal for the price.
Pros:
Excellent playback controls
Great for active use
Customizable sound experience
Cons:
Require frequent charging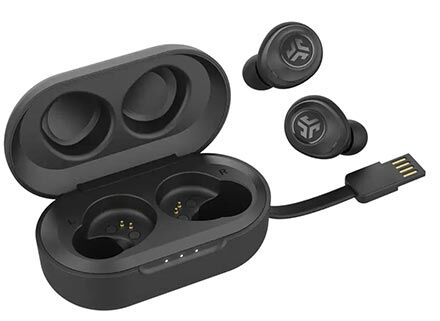 Looking for super durable earbuds that do well in a variety of listening settings? In which case, these earbuds by Jlabs are the perfect pick.
The shock-proof and fully water-resistant design makes these wireless earphones great for the gym, office, or anywhere in between.
The true wireless earbuds come with cushy ear tips and a charging cable. While these earbuds may be a bit larger than what you may be used to, it also means that these earbuds will stay super sturdy as you move from place to place throughout your day.
Plus, the large earbuds are slightly angled making for a more comfortable fit.
The included charging case makes it easy for your earbuds to last for longer since the case can hold a charge itself, similar to Apple's Airpods.
Unfortunately, the battery on its own only lasts for about 3 hours. The case can hold up to 10 hours of additional battery life as well, so it's definitely less of a shortcoming when compared to other similar earbud choices.
The connection is relatively stable, especially for earbuds that don't have the apX codec. In terms of sound, these earbuds are super heavy on the bass.
For some listeners, this might overpower the mid and high-frequency range entirely, making it difficult to truly enjoy your music.
However, considering their affordability, this earbuds don't disappoint. Overall, these earbuds make an excellent choice for a trip to the gym or as an audio companion for casual listeners.
While they may not have the best sound quality, they are still super comfortable and convenient for everyday listening.
Pros:
Waterproof
Cuts out wind noise
Shockproof
Cons: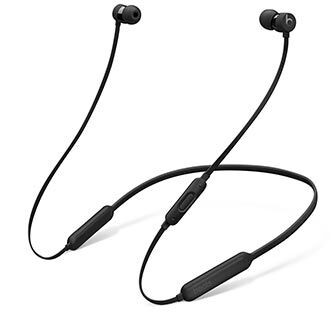 Beats is well known as one of the most popular earphone brands for casual listening, especially for people who love bass.
That being said, these partially wireless earphones hold up in their expected field— The earphones offer pretty good casual listening output at a great price.
These earphones are pretty comfortable with their cushioned tip design that conforms to the shape of your ear with ease.
Unlike other wireless earphones, this semi-wired option truly has an excellent 100-meter range. You can also use these earbuds with Google Assistant or Siri for added flexibility.
Unfortunately, these wireless earphones can only support a battery life for about 5 and a half hours, but you can also listen at a lower volume to increase your payback time.
As expected, these headphones have a somewhat emphasized bass when it comes to audio output. The output certainly isn't neutral, so you won't want to mix or produce with these earbuds, but it's great for casual listening.
Sound isolation is a bit average, but you can also swap out the ear tips to get a more clear sound. I love how this pair of earphones has a reliable embedded microphone.
This way, you can easily make and take calls without having to switch audio devices.
Overall, this is a great pair of earbuds for everyday use. While you'll need to be somewhat of a basshead to enjoy wearing these earbuds, they still are a great bang for your buck within their class.
Pros:
Stable Bluetooth connection
Stylish design
Excellent range
Cons:
Best Wireless Earbuds Under 100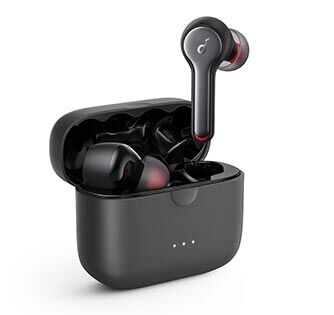 These wireless earbuds are truly top-notch and make an excellent addition to any audiophile's earbud collection.
Plus, they include an impressive microphone so that you can easily make and take calls with confidence and clarity.
While these earphones don't feature active noise cancellation, they already have an embedded sound isolating design. The ear tips are soft and conform to the unique shape of your ears, making them comfortable for use all day long.
I also love how these earbuds can be charged wirelessly— As an Apple user, this is a huge plus since I can have everything charging up in one place before I drift off to sleep.
In terms of sound, these earbuds are impressive. The single is clear cut and makes it easy for you to hear multiple instruments throughout a mix.
Plus, with the Apple and Android compatible app, you can fully customize your listening experience according to taste.
The mid-range is particularly clear, making this a great set of earbuds for anyone who loves listening intently to vocals.
The lightweight buds are easy to take from one place to another and have a compact carrying case for simple portability.
In terms of holding a connection, these earbuds do a fantastic job. You'll be able to hear your tunes easily without unnecessary breaks in the mix.
The earbuds are also water-resistant, so they're a great pick for the gym. In general, these earbuds hold about 7 hours of battery life on a single charge.
Overall, these wireless earbuds are hard to beat for the price with their impressive sound quality,.
Pros:
Wireless charging
Great microphone
Built-in sound isolation
Cons:
Does not have the emphasized bass that many listeners crave
Conclusion – Best Bluetooth Wireless Earbuds Under 100
When it comes to picking the best bluetooth wireless earbuds pair under $100, it can be a very difficult choice. This is because an added $30 or so to the cost of the unit can drastically impact the transmitter quality.
Therefore, I'm biased to lean towards the more pricey options on this list, even though they might not always be the most economical.
That being said, I'm going to have to go with the Anker Soundcore Liberty Air 2 as my favorite wireless earbuds under $100.
It's hard to find a downside with these guys, other than that they don't have a super emphasized bass.
As a producer, I appreciate having a clean signal so that I can hear what's truly represented in the mix.
On top of superior sound quality, these earbuds have built-in noise isolation and a great sounding microphone making them a truly excellent deal for their price.
Regardless, any of these earbud choices are bound to be excellent for any wireless listening experience. Happy listening!