The modern times brought us many conveniences that we, honestly, take for granted.
While it used to be almost unimaginable back in the old days, music during exercise became more widespread as the playing formats became more compact and practical.
However, running was still an issue if you wanted to listen to music while doing it. The invention of the Walkman, and eventually portable CD players, opened up the ways for anyone to listen to music while running.
Fast-forward to the present day, we can listen to music from our smartphones, iPods, and plenty of other portable devices when doing pretty much any kind of exercise, including running.
However, to get the best out of the audio quality of modern music and remastered old music, you still need some great headphones.
After all, what is a good running session without some nice music? With all this in mind, we figured we could look into the best wired headphones for running that we can find these days.
Best Wired Headphones For Running & Workout
Now, without any further ado, let's start this actual review roundup.
Best Budget Wired Headphones For Running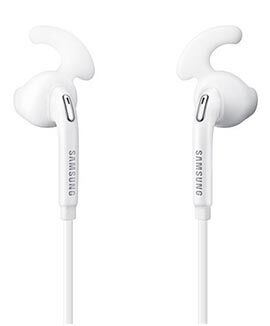 Over the past decades, we've seen what Samsung is capable of. The company has built its reputation for making stunningly great products, no matter whether we're talking about appliances, smartphones, or headphones.
And here, we'll be looking into the company's Active InEar wired headphones. It's not just their audio quality that caught our attention, but also their ergonomic design and wonderful fit that works perfectly for any type of exercise.
In this case, we're talking about running, and these are pretty popular among runners who love the wired formation.
Talking about ergonomic features, these headphones come with those "winged" ear gels that not only increase stability but also keep things very rich when it comes to the bottom end of the spectrum.
Additionally, they're also very good at keeping the outside noise from coming into the ear canal, so that's pretty useful for runners, both those who prefer indoor or outdoor running. They keep pretty tight to your ear and won't fall out that easily.
With this also comes great comfort, as they're designed in such a way to fit different ear shapes and sizes, while also keeping things stable.
However, some people might not prefer their overall design and this "winged" formation.
Other than that, we have a tangle-free design, along with an accompanying microphone, as well as three control buttons.
You can answer phone calls while running and also control play and pause for any song, and the master volume level.
The drivers are relatively larger and are 12 millimeters in size. In the end, it's worth noting that these Samsung headphones are pretty cheap, especially considering the qualities that come with them.
They're fairly simple, yet come with some qualities that you don't find that often within this price range.
Pros
Good sound quality
Great deal for the price
They'll keep stable in any different ear shape or size
Lightweight and generally comfortable
Cons
Some won't like how they fit with the "winged" design
Best On-Ear Wired Headphones For Running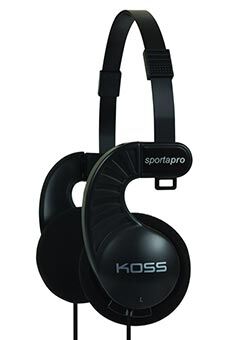 Interestingly enough, many runners these days, or generally people who love exercising and listening to music, prefer the standard earbuds.
However, there are some standard headphones with an over-ear design that can be used for running or any other type of exercise.
If you're into active lifestyle, love music, and still prefer high-definition audio files over simple mp3 stuff, then we'd fully recommend Koss SportaPro.
Sure, the brand might not be as famous compared to some other stuff that we have on the list. However, these are specially designed for sport and those who generally prefer listening to music along with their active lifestyle.
But although featuring an over-ear design, these headphones are still pretty light and comfortable.
One of the main features is the design that lets you bend the headrest, which allows normal operation even with different hairstyles and any kind of headwear.
When it comes to sound quality, they cover the entire audible spectrum and feature such a frequency response that will make things sound very lively.
The drivers feature rare-earth magnets that help them achieve amazing clarity all over the spectrum.
For their particular price level, we just couldn't find any flaws. Koss SportaPro headphones are great for sports activities and they still manage to sound awesome.
The only "downside" here is that some may not prefer something with a headband for running, but then they should look for other types of headphones.
What's most important here is that we have a great sound quality and that they manage to reproduce even those large FLAC audio files rather well.
Pros
Great sound quality and clarity all over the audible spectrum

Very light and comfortable

, despite the overhead design
Adjustable headrest for different headwear and hairstyles
Cons
Some users might not prefer the overhead design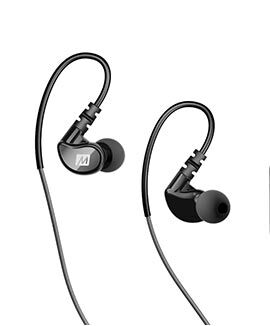 Next up, we have an unavoidable mention of MEE Audio and its amazing hi-fi products. If we're talking about wired headphones and running, we just can't help but notice their X1 wired model that comes with some amazing features, as well as a pretty reasonable price for all that you get with them.
So let's start with their very comfortable and ergonomic design.
Compared to "conventional" earbuds that we have these days, X1 headphones go over the ear with their adjustable flex wire that also comes with the full package.
While some may be discouraged with this, thinking that it may potentially feel uncomfortable, we can assure you that X1 feels pretty great, almost as if you're wearing nothing at all.
But aside from great comfort with over the ear design, the ear-tips are also worth mentioning here. In fact, they come with a set of 6 different ear-tips of different sizes.
On the cable, we can also find the "remote" control for answering phone calls and for controlling play and stop for the music that you're listening to.
Of course, it also comes with its microphone and a simple shirt clip that's also very useful for running.
But aside from these useful additions, two main traits strongly stand out. The first one is the sound quality. This is also ensured with the great addition of different earpieces.
They're also fairly reliable, at least in most of the cases. The support is also great in case something goes wrong, but they're designed to be very durable and fairly water-resistant.
To be fair, we just can't find a single downside that would be a deal-breaker. You can't go wrong here.
Pros
Top-tier sound quality
They stick firmly onto and into the ear, even with different kinds of physical activity
Very comfortable
Cons
Nothing for their price level
Best Wired Headphones For Running Overall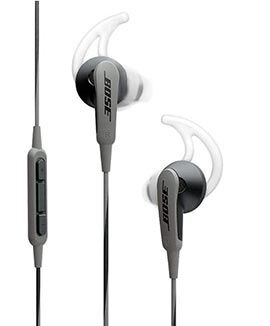 Bose is another great brand that comes to mind if we're talking about headphones. However, you need to know that their stuff gets pretty expensive. And that's also the case with these in-ear headphones that we're looking into.
However, what's quite surprising is that they're more than worth this price. To put it simply, these are the ultimate headphones that you'll want to have, especially if we're talking about running or any other physical activity.
The fit, the comfort, the impeccable sound quality, the additional "remote" controls, and the overall practicality – it's all possible with these headphones.
It's when you realize this that the price no longer presents an issue.
So let's start with the sound quality and drivers. Firstly, these are designed in such a way to block most of the outside noises.
The drivers, which are specially designed by Bose, bring us clarity and perfection in pretty much every part of the audible spectrum.
The frequency response is somewhat "flatter", also making them a great choice if you're doing any kind of music-making at home and need reference monitors.
With the possibility to fit any ear size or shape out there, they stay in your ear canal and don't move at all.
At the same time, the earpiece helps you lock them in and have an unbothered exercise, whether it's a long run, series of sprints, or anything else.
This also comes with an amazing design. In case you're also very concerned about aesthetics, then you won't need to worry about this particular aspect at all.
It's an all-round amazing product that will get you covered in all aspects. Again, they're expensive but they're worth it.
Pros
Impeccable sound quality
Amazing fit and comfort
Very aesthetically pleasing
Great for any kind of exercise
Cons
They might be too expensive for some casual users
In the end, it's really hard not to mention Sony and pretty much any of their products if we're talking about headphones.
Now, when it comes to this specific category of wired headphones for running, we'd like to mention their Extra Bass Active Sports in-ear headphones.
This is another example of headphones that are not that expensive but that still manage to bring some amazing traits and qualities that you don't often see within their particular price level.
The first thing that you can notice with these earbuds is the frame on each side, providing you with a secure fit. Now, we don't want to be negative, but this may be a feature that's a deal-breaker to some people.
However, these loop hangers are adjustable and can fit on any kind of ear. It just comes down to personal preferences. It's not a downside in the general sense, but some may just not like it.
Other than that, we can't exactly throw any other complaints as they're very well built and sound amazing. They come with 13.5 mm drivers that keep things clear all over the spectrum.
We noticed a slight boost in the low-end areas, which can be pretty useful for those looking for a great workout experience.
Other than that, they're fairly simple and don't come with those phone call features or volume controls. These are just simple earbuds with a great focus on sound quality, which is what Sony is known for.
Pros
Great sound quality
Great build quality and reliability
Adjustable loop hangers
Cons
Although not a complete downside, some may not prefer the design with loop hangers
Wired vs Wireless Headphones For Running
But before we get into this topic about the best headphones that we can find on the market, let's first differentiate between wired and wireless headphones, and how this particular configuration can impact your overall experience.
Of course, wired versus wireless headphone differences are pretty obvious. Many would argue these days that wireless headphones come with nothing but advantages, especially if we're talking about exercise.
No matter what kind of wireless headphones we're talking about, they always give you all the freedom in movement, without having to bother securing the wire somehow.
However, there's a catch as wired headphones come with a higher maximum data transfer rate per second. Wireless headphones are usually at a maximum of 768 kbps, whereas wired ones are at 2304 kbps.
This isn't much of a big deal if you're playing mp3 files only. But if you're both an audiophile and crazy about exercising and running, then wired headphones are a better choice.
Of course, they might feel a little complicated if you need to secure them and not have the cable tangled all the time.
However, many wired headphones these days are designed in such a way to prevent these annoying things from happening and you'd feel as if there's no cable.
Conclusion
As we already mentioned, wired headphones come with one main advantage – they have a better sound quality for those high-definition audio files.
This is a very important feature for many people, including those who like to have long-distance running sessions while keeping the full sonic experience in there.
With all this said, we would single out Bose's in-ear headphones as the best possible example. It's the perfect fit, the design, comfort, and – above all – the impeccable sound quality that makes them the top choice.
The runner-up would be MEE Audio X1 in case you don't feel like spending too much, while also keeping the qualities at a desirable level.