There's nothing more motivating than listening to your favorite song while working out. However, earbuds can easily fall out and some headphones simply aren't snug enough to support a full exercise routine.
Luckily, there are such things as over-ear headphones. Over-ear headphones cover the entirety of your ear. This is in contrast to on-ear headphones that cover a portion of your ear but do not encircle the area entirely.
Over-ear headphones may be a bit heavier than on-ear headphones by comparison, but this also helps them to stay sturdy while you run around or workout.
Best Over Ear Headphones For Gym & Working Out
In addition, over-ear headphones are known for offering superior noise isolation which can help you truly focus on the task at hand.
While exercising, that extra noise isolation can serve as a crucial difference between a productive and unproductive workout.
In addition, it's important to take water resistance into account.
Even small amounts of sweat can interfere with the effectiveness of a delicate audio device, so it's important to find a pair of headphones that's truly well suited for your needs.
All things considered, we've rounded up a list of the best over-ear headphones for working out available.
Below, we'll compare their unique features and designs so that you can find the perfect pick for your individual needs.
Without further ado, here are our top picks for over-ear headphones that can withstand even your most vigorous workout routine.
Best Budget Over Ear Headphones For Work Out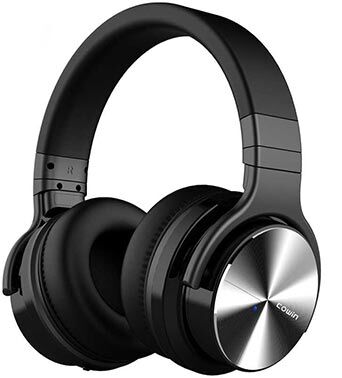 If you're looking for a sturdy pair of wireless headphones that will thrive even with regular usage, this set is an excellent choice.
The closed-back headphones have a padded headband and cushy ear pads which makes them great for prolonged listening sessions. They also have a pretty good wireless range, so you'll still be able to focus even if you need to run to the water fountain.
These headphones are a good pick for bassheads as they heavily emphasize the low-frequency profile of the audio source.
However, if you depend on vocals to keep you motivated while working out, this might not be the best set for you— Due to their bass-heavy sound, you may miss out on some of the high mid frequencies of certain songs.
One of the best features of these headphones is their noise isolation design. Using these headphones will make it easy for you to focus on the music and therefore the workout. Plus, with a stable fit, these headphones can withstand a focused run on the treadmill or exercise bike.
These headphones also have a built-in microphone which makes it easy for you to take calls while using the set. Notably, these headphones also offer noise cancellation of about 8dB which is considerable, especially for the price.
Overall, this set of headphones might not be the sturdiest set you can find, but they're a good deal for the price. If you need a sturdy, bass-heavy pair of headphones to keep you focused while working out, you can't get much better than these.
Pros:
Wireless design
Great battery life
Offers noise cancellation
Cons:
Not the greatest build quality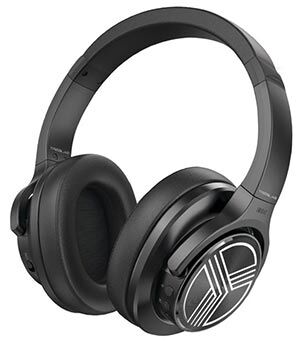 Don't be fooled by the unfamiliar brand name— Treblab makes excellent headphones at an affordable price as exemplified by this wireless pair. These headphones are pretty slim, making them well suited for sticking in your gym bag.
In terms of fit, these headphones are super comfortable. The plush ear cups are comfortable without being so thick that they become unbreathable.
The ear cups also offer an impressive amount of sound isolation on their own, though there's also active sound cancellation available. While it isn't super strong, it's enough to keep you focused throughout your workout.
In terms of battery life, these headphones are pretty headphones. On a single charge, they can support an upwards of 30 hours of playtime. The included 3.5 mm cord can be used when you run out of battery.
Notably, this cord also has integrated controls so that you can continue to play and pause your music even without charged power.
On the headphones themselves, you'll find play/pause and track navigation features. There's also a simple noise cancellation toggle to easily switch the feature on or off.
I love how this pair of headphones support a high-res Bluetooth connection— You can depend on these headphones to deliver your tunes even from a considerable distance.
After the gym, these headphones and the integrated microphone are perfect for making and taking calls. While these headphones don't fold up, they come with a sturdy carrying case that holds up well, even with regular use.
In terms of sound quality, Treblab does a great job of providing a highly balanced sound output. The bass isn't overbearing, and the mids and highs feel crisp and clear.
You'll also get a little dimension with this set of headphones which is super impressive, especially for the modest price point.
Overall, if you're looking for a balanced sound with a little bit of bass enhancement, this is great pick. These headphones are pretty sturdy and hold a super long charge making them well-suited for fitness fanatics.
With the added advantage of a water-resistant coating, these headphones are practically begging to go in your gym bag.
Pros:
Active sound cancellation
Well-balanced sound for both iOS and Android users
Water-resistant headphones
Cons:
Not as cushy as other headphone options
Best Value Over Ear Headphones For Work-out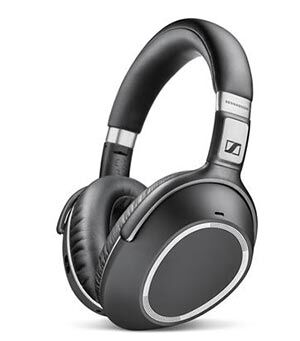 Sennheiser has always been one of the most trusted names in audio and these headphones should give you a sense as to why— These headphones are fully customizable and allow you to enhance your listening experience according to preference.
The app lets you fine-tune your audio settings based on genre or listen to a flat signal, making this headset incredibly versatile.
That being said, you'll have to listen to files already stored on your listening device or through the streaming service Tidal. While the definition of audio isn't the best, it's still super reasonable for the price. The active noise cancellation is impressive and can be adjusted based on your current environment.
I love that these headphones fold up for easy storage while on the go. The plush ear cups make for a super comfortable fit and you also get a carrying case along with your purchase.
In terms of aesthetics, these headphones are sleek without calling too much attention to themselves. You'll have no trouble wearing these while transitioning from home to the office.
There are handy touch controls for playback navigation as well on the right ear cup. I also like how lightweight these guys are— It's really not an inconvenience to take them from one place to another. Plus, with an impressive 30-hour battery, these headphones should last a couple of days on a single charge.
You can use the headset to make calls with an embedded microphone, and with multiple dual microphones, you'll be able to hear yourself while speaking. By default, these headphones have a slightly enhanced bass sound, but that can always be adjusted according to preference.
In the event that your headphones run out of a charge, you get an included 3.5 mm cord for analog listening. This cord also has a built-in microphone, so you'll be able to make calls either way.
Overall, this is a great set of headphones for working out or otherwise. While it may cost a bit more than other options, it's certainly a worthwhile investment.
Pros:
Customizable sound features with the compatible app
Active noise cancellation
Up to 30 hours of battery life
Cons:
Not the best stereo definition
These headphones really offer the hands-free experience with a sturdy built-in microphone that's made to please. The noise-canceling headphone is compatible with all virtual assistants so you can easily make calls, even while you're on the treadmill.
The set has nicely padded ear cups that stay snug on your head even as you're moving around. I also like how this set folds up and comes with a portable carrying case making it super easy to transport from one place to another.
Though, the headphone set is pretty sturdy on its own, so you won't have to worry about them breaking in case they take a tumble.
The large ear pads also offer a good amount of sound isolation on their own. Making it easy for you to fully focus on your workout. These headphones offer an impressive amount of active noise cancellation as well to further amplify your music.
In terms of sound, these headphones are fairly decent. The headphone set has a default flat setting, though you can adjust the sound to your tastes using the compatible app. I was super impressed with the battery life— These guys can handle a bit more than 30 hours of continuous playback on a single charge.
Overall, these headphones are great for a variety of uses. While they may feel a bit snug to some users, it's clear that this set is an excellent value for the price.
Pros:
Customizable features
Great noise cancellation
Built-in microphone
Cons:
Might not be as comfortable for large ears
Best High-End Over Ear Headphones For Work Out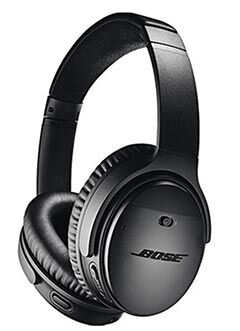 Bose is well-regarded in the audio-tech world and their reputation is evident in these superb-sounding headphones.
The classic pair of headphones is fully jet black and unassuming, giving it a great aesthetic that's appropriate for use at the office or gym.
The most stand out feature of these headphones is the superior active noise cancellation. This is the perfect pair of headphones for anyone who truly needs to focus while working out in a noisy environment.
The padded ear cups are super comfortable and fit most ear types with ease.
These headphones also fold up nicely to save some storage space in your bag. I love how this pair of headphones produces a truly well-balanced sound— The set seamlessly adjusts itself so that every song sounds crisp and clear.
You'll also get a good amount of stereo definition with these headphones, which is always a pleasant surprise.
You can also take calls easily with this headphone set using the embedded dual microphone. While this set may cost a bit extra than other options, it's well worth the added investment in my opinion.
Pros:
Super comfortable design
Can be used in a wired mode
Great noise cancellation
Cons:
A bit more expensive than other models
Conclusion
While all of these headphones are great, I think I have to go with the Sennheiser PXC 550 Wireless as my favorite of the bunch. To me, these headphones are the perfect blend of sound, extensive battery life, and comfort without being too expensive.
You can also fine-tune your listening experience, which is important to me as an audiophile. Regardless, any of these headphones are bound to enhance your workout experience for the better. Happy listening!