As strange as it may seem, the ways that we listen to music have changed drastically. Back in the old days, we had vinyl record or cassette tapes, which required somewhat bulky and impractical devices.
These days, when all of the physical formats have become obsolete, we have so many practical ways to listen to music.
However, there are still a few challenges even today, especially when we're looking for the best ways to listen to music in complete silence.
And this is exactly why we have noise isolating earbuds that can help us have the best possible experience while not getting any kind of interference with the music that we love listening to.
But at the same time, it might get a little tricky to find the best possible noise isolating earbuds for your needs.
Best Noise Isolating Earbuds Review Guide
Digging through today's market, we've found some of the best examples of noise-isolating earbuds that we can find.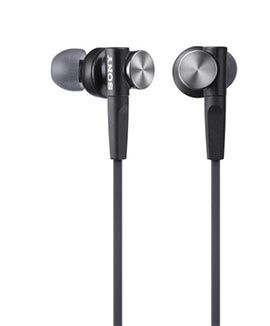 Of course, it wouldn't be possible to avoid a big brand like Sony on this list, especially if we're talking about any kind of earbuds or headphones.
After all, they're one of the biggest names of the hi-fi industry. In this guide, we're looking into their amazing MDR-XB50AP earbuds. First off, we have the classic wired configuration with a standard 1/8-inch connector.
Additionally, we also have a microphone that's useful for phone calls or any other audio or video chats on your phone or a computer.
This is also accompanied by a smartphone playback control that can make your life easier in some settings.
Now, the silicone earpieces here are the high point of these earbuds. And especially knowing that the price is not exactly that high, these do a wonderful job at blocking out the outside noise.
Additionally, these hybrid silicone ear-tips are pretty comfortable, and you won't even notice that you're holding them in your ears after a while.
What's also really interesting is the fact that they manage to keep things comfortable, even for different shapes of ear canals.
This all is accompanied by very useful "Y-type" cable formation which comes with the "flat" tangle-free design. With these features, we can say that comfort and practicality are their strong side.
Going over to the main component, the drivers, we have 12-millimeter dome-type ones that feature neodymium magnets.
With such a configuration, you'll get a very defined bass. In combination with their noise-isolating features, you'll get a significant bass boost.
However, the downside is that sometimes it feels like some other frequencies are not as pronounced.
It's not that bad, but it feels a little "scooped" for some songs. But we can't quite complain as they're amazing for their relatively low price.
Pros
Fairly cheap
Great fit and overall feel
Very defined low-end
Cons
The sound can feel a little "scooped" in some cases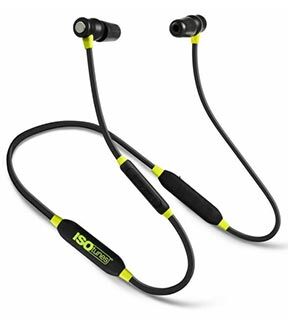 Luckily for music lovers these days, we can all enjoy our music without having to deal with any jacks and complicated cable formations. Here, we're including ISOtunes Xtra, which are Bluetooth earphones.
Of course, they're not completely two independent headphones like you'd have with standard Air Pods, but are connected with one cable in the form of a classic neckband.
On the cable, we can also find the basic controls for volume level, as well as a play and stop control.
ISOtunes Xtra is a pair of rechargeable headphones that can give you up to 8 hours of playtime, as well as mind-blowing 180 hours of standby time.
What also makes them great is the range of the wireless Bluetooth connection. When connected to a device, you can even move about 30 feet away from it without experiencing any signal loss.
This is typical for Bluetooth 4.1 technology, which also keeps the sound at an original quality even at somewhat longer distances.
Their best feature, in our opinion, is the ear-tips. In fact, it comes with a set of four pairs of foam tips and three pairs of double-flange ear-tips.
So it's not only about the size but also about what makes it more comfortable for you.
These headphones have also been tested for the noise reduction levels, proving to have the capability of blocking about 27 dB of external noise.
Aside from all these features, they're also very durable to moisture and damages. They're not as cheap as some other headphones of this kind, but you'll get some features and qualities that make it all worthwhile.
Pros
Great deal for the price
They come with 7 different ear-tip sets
Very practical features
Great sound quality
Very durable
Long battery life
Cons
Nothing for this price level
While we mostly focus on hi-fi brands, a company like Shure that's been making great studio and stage equipment also makes great stuff for regular music fans who just want to enjoy their music in peace.
For instance, they have great noise-canceling earbuds called SE215. And just like with all of their equipment, sound and performance are the main focus here.
And it would be an understatement to say that these earbuds sound great. In fact, many would use them as in-ear monitors for live performances or even monitoring for some home recording and mixing sessions.
Interestingly enough, these headphones manage to cover both casual music listening and studio work.
Their frequency response is somewhat "flatter" compared to other standard headphones. This is all thanks to their amazing Dynamic MicroDrivers.
However, this provides some clarity in the sound and they even have some additional bass boost in there that will make your music sound rather full.
All this comes with great noise blocking features, managing to cover up to 37 dB of unwanted outside noises.
As if these features weren't enough, Shure's SE215 headphones are very light and comfortable, which makes them feel almost unnoticeable when you listen to music.
Interestingly enough, Shure also somehow managed to make each component very durable.
The only downside here is that they're mostly designed as in-ear monitors for professional musicians, which might make the overall output somewhat weird to some casual music listeners.
Other than that, they're pretty amazing, especially for their price range. If you're also a musician who needs a nice reference for their recordings, then we'd recommend these for sure.
Pros
Very durable
Great clear sound all over the audible spectrum
Slight bass boost makes things sound fuller
Cons
Some casual music listeners might not like their overall performance and specific sound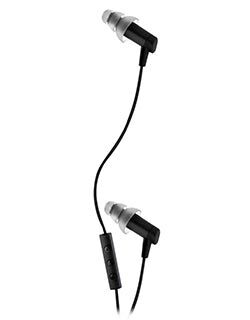 While Etymotic Research is not as big and famous compared to some other companies that we mentioned here, they still make some of the best noise isolating headphones on the market these days.
And the product that we're getting into here is their ER23-HF3 set, which also comes with its own microphone and additional controls for playback and volume level.
The microphone on them is pretty sensitive, yet it manages to block out some unwanted noises as well.
As for the earbuds, they're designed in such a way to block out anywhere between 35 and 42 dB. At the same time, the design and the ear tips still manage to keep the experience pretty comfortable and enjoyable.
These are ACCU Fit ear-tips and we also have the CustomFit option available. They're also pretty durable and can even withstand some moisture and rougher handling.
The cable is even Kevlar reinforced, which makes this set almost indestructible.
The build quality is followed by an amazing sound. This is all thanks to the company's AccuDriver technology and overall great coverage of all the frequencies of the audible spectrum.
If great sound and comfort are your top priorities, you simply cannot go wrong with Etymotic Research and their ER23-HF3 earbuds.
Not to mention how amazing they are at noise isolation, which is also one of the top priorities here.
There is, however, one downside to them that we'd mention. Although we have nothing against conventional headphone connectivity, it would be nice to have wireless headphones at this price level.
This would certainly give more comfortable operation as well as compatibility with many mobile devices without headphone jacks these days.
Pros
Great sound quality
High level of noise isolation
Very comfortable
Cons
It would be nice to have additional features, like wireless connectivity, at this price level
Best Noise Isolating Earbuds
Finally, we'd like to get into V-MODA and their Zn headphones. We can easily say that they're as weird and as innovative as the model name suggests.
And although the brand might not be as famous as you'd expect for the list of the best noise-canceling headphones.
But here, we have a real feast for true audiophiles, no matter the music genre that you're into. To put it simply, there's hardly any chance you'll find better-sounding headphones than these.
Zn headphone set comes with 8-millimeter dynamic drivers that not only cover all frequencies well but also manage to keep all the potential clipping at a minimum.
If you need great higher-end earbuds that still keep the overall simplicity, then you can definitely go with V-MODA's Zn.
What's more, the focus is also on comfort. These headphones come with the company's special Active Flex sport ear hooks that keep things stable and comfortable even during hard physical activity.
Of course, they also come with other appropriating equipment, including ear-tips of different sizes and properties, as well as a pouch for carrying them.
The list of features goes on and includes a tangle-free cable design and control buttons. The only downside is the same issue that we had with Etymotic Research ER23-HF3 – for this price, it would be good to have wireless connectivity.
But knowing how great these are, we cannot quite complain much.
Pros
Amazing audio quality
Great noise blocking
Innovative design
Extremely durable
Cons
We would expect wireless connectivity for this price
Might be expensive for some users
Noise Isolation vs Noise Cancellation
But before we dive into this topic, it's important to define exact differences between what noise isolation and noise cancellation mean.
These two types of earbuds have their own distinct ways of dealing with the outside noise and rely on completely different principles that we're going to tackle here.
In case you need a simple explanation, noise isolating earbuds rely on blocking the outside noise by sealing your ear opening as tight as possible.
On the other hand, noise cancellation earbuds cancel sound waves. Noise isolation is pretty simple and relies on mechanically blocking any noise from coming into your ear canal.
To achieve this, noise-isolating earbuds can also come with ear tips of different sizes, which will make them fit any ear canal size.
And then we have noise cancellation, which is way more complex compared to regular noise isolation.
While they basically rely on the same principle of blocking the noise, noise cancellation earbuds come with additional features that go way beyond just the mechanical noise blocking.
These headphones actually have sensors (or microphones) that pick up the outside low-frequency noises and "neutralize" them.
After picking up the loud frequency, they generate a phase-inverted sound that cancels the noise out.
So, to put it simply – noise isolating earbuds mechanically block the outside noise, while the noise-canceling earbuds and headphones do this by picking up the noise and emitting the frequencies that would cancel it all out.
Conclusion
Noise isolation is one of the most important traits for headphones these days. No matter the budget level, keeping unwanted noises out of your ear canal is among the top priorities.
In case you're looking for the best noise isolating set of earbuds, then we would definitely go with V-MODA and their Zn.
They might be expensive, but if you want a real experience, then you simply cannot go wrong with these.