For most people, having good headphones is synonymous with money.
More money you spend, better headphones you'll get.
This is true to some extent but, fortunately, there are some headphones available that punch above their weight and deliver the performance that defies their price.
In our last post, we talked about decent headphones that cost less than 100 bucks. But we don't live in a perfect world and there are many people who find even 100 bucks too much for a decent headphones pair.
That's why we decided to go even further this time and here we are: best headphones under 50 bucks.
Best Headphones Under 50 In 2023
A good thing about this roundup is that we've include different types of budget headphones.
Here you'll get an over-ear headphone, an on-ear headphone, a semi-open headphone, a wireless headphone, and a gaming headset – with each of them costing less than 50 bucks at the time of this review.
So, without any further ado, let's start this roundup.
Best Over-Ear Headphones 2023 Under 50
The headphones that we are looking at are the Audio-Technica ATH-M20x. The company needs absolutely no introduction thanks to one of the most prolific portfolio that is filled with some of the best headphones available in the market.
The M20x are the entry level option that can get you started with the sound that you normally would get in a reference style headphone. So, how good are they:? Let's find out.
Well, to start with the good things; the pricing is one of the best things that you are getting with this pair of headphones; neither too expensive, nor too cheap.
Another great thing is that I was under the impression that the sound quality might not be good enough given the price but I was quickly proven wrong because these are among the best sounding headphones available in the market, and you will not be disappointed at all.
The sound is great in almost all the situations, and there is some pretty great passive isolation as well, so that is another added benefit.
As far as the downsides are concerned, I cannot find a lot of reasons to complain about. However, I would like to state that the build quality is largely plastic, and you are not getting a lot of goodies when you are buying these headphones. Which seems like an understandable factor given the price of these headphones.
Overall, the Audio-Technica ATH-M20x are an excellent choice for anyone who is in the market looking for an affordable option because these headphones do get the job done in every single situation and you do not have to worry. Granted, they are still entry level but they can easily pull their weight better than much better headphones in the market.
Pros
Excellent audio reproduction.
Great value for money.
Lightweight.
Great passive isolation.
Good for monitoring purposes.
Cons
The design language might not bode well with everyone.
Mostly plastic build quality.
The box contents are basic at best.
Best Semi-Open Headphones 2023 Under 50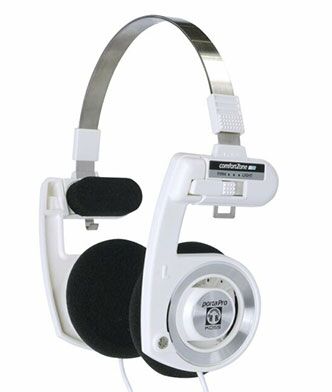 Sometimes all you are looking for is something vintage; now that is a situation that most people think about and wonder if they should actually go for, or not. Are you buying vintage because of the nostalgia or because you actually want something like that?
The headphones we are reviewing are the Porta Pro from Koss, and while some people might think that these headphones are only about the vintage appeal and nothing more than that, you would be surprised as to just what they offer. Let's not waste time and have a look.
For starters, the great thing about these headphones is that they are going to deliver an excellent bunch, which looks strange because of how small these are, but they do carry quite a punchy sound which we love.
Another great thing is that despite not being high fidelity, these headphones do offer a great level of detail that is really hard to achieve at such a price point. Another great thing about the Porta Pro is that as the name suggests, the headphones are actually very lightweight, as well as very easy to carry. Therefore, you do not have to worry about carrying these around.
Moving onto the things that we did not like, I have to be honest, there is not much. However, I would advise you is that their design means that they let sound in as well as there some sound leakage.
This could be considered a design flaw but something that you should definitely keep in mind if you are in the market looking for a good pair of headphones.
Overall, if you are looking for something affordable and something that does sound great, this is the way to go. The Koss Porta Pro are not only affordable but also very suitable for a number of different purposes. They sound excellent and they can easily be carried around.
Pros
The value for money is brilliant.
You are getting pretty good sound quality and detail.
The headphones are extremely lightweight as well as portable.
Cons
The design allows the sound to leak and lets in some ambient noise as well.
Best On-Ear Headphones 2023 Under 50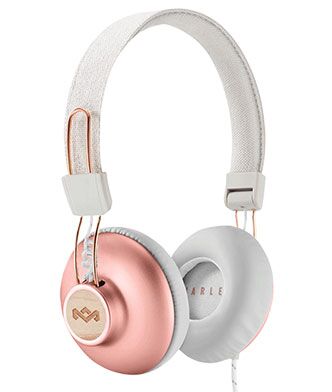 Normally when you are reviewing headphones, there are just so many companies that are completely overshadowed by all the giants that are present in the market.
There is nothing wrong with that, it is just a very common scenario and that is okay, too. Today, we are looking at something from a company called House of Marley, and the headphones are called Positive Vibrations 2; are they good? That is what we are going to find out in this review.
Now the good thing about these is that they are wireless headphones that are actually for the price you are paying; you are getting 12 hours of battery life on active listening, and if you do run out of battery, you can always attach the included cable and be on your way.
Another great thing is that these headphones are extremely comfortable for longer listening times, the design folds, making it easy for you to carry them around. You are even getting in-line remote control, which is not as common in these headphones.
The sound quality is great, especially when you look at the fact that the treble and the bass matches. You are not getting any sound leakage either, which is impressive.
The only issue that I realised with these headphones is that these do slip a lot during movements, especially when you are jogging, or something along those lines. So, it is always better to keep that in mind.
Overall, I would say that the House of Marley Positive Vibration 2 are pretty amazing for the price you are paying. Granted, they are not the best possible headphones available in the market, but you do have to realise that you are getting a lot for a small price.
Pros
Extremely comfortable.
Long battery life.
Great sound quality.
No sound leakage.
In-line remote is good to have.
Lightweight and easy to carry.
Cons
The headphones are not good if you are going for jogging as they easily slip
Best Wireless Headphones 2023 Under 50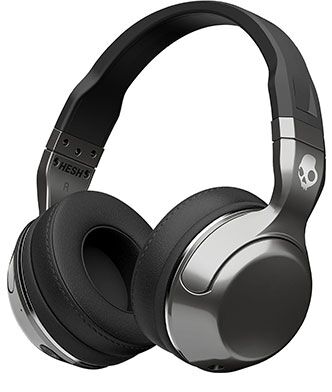 There is no denying that Skullcandy have developed a reputation for being very good with the design language, and more importantly, the style that they present.
While it is true that they do not bode well with everyone but the good thing is that over the years, they have been improving the quality by a good measure, and that is what we are looking to achieve as well.
With that out of the way, today, we are looking at the Skullcandy Hesh 2 Wireless Over-Ear. Are they aany good? That is what we are going to find out.
To start with the things that I do like about these headphones, these are reasonably priced headphones and more often than not, you find them on a discounted price, which is always good to have.
You are getting a fairly decent battery life as well, which is another benefit that you are getting out of these. Moving on, another great thing is that if you are looking for something that is comfortable to wear for longer periods of time.
You are also getting a three button remote integrated into the headphones that is easy to use, and has a nice touch to it.
Moving onto the things that I did not like, there is not much, to be honest. You are getting a lot of good things from this headphone; however, I would tell you that while the sound quality is good, it is not class leading by any means, but then again, what can you expect at such a price point.
In conclusion, I would suggest that if you are looking for something afford able and you genuinely like Skullcandy as a brand, then these headphones are definitely great and you would not regret it at all. They have an excellent price to performance ratio and that means that you won't be regretting that at all.
Pros
The headphones are competitively priced.
Mostly available on discounts.
You get 15 hours of battery life.
The fit and finish is one of the more comfortable ones.
You get proper controls integrated into your headphones.
Cons
While the sound quality is good, it certainly is not class leading.
Conclusion
Buying the right pair of headphones when you are on a budget can be difficult. Especially when the market is filed with top of the line options and you have to know that things can easily get out of hand.
However, with the list that we have created you, there won't be any issues coming in the way of the headphones that you have to buy.
Just make sure that you are buying the one that suits your requirements, and you would be good to go