There's nothing quite like a long, focused bike ride. One of the best ways to enhance your cycling experience is through the power of music. However, not all headphones are well suited for the task.
For one thing, you have to be very vigilant to make sure that your headphone cord doesn't accidentally get caught on your handlebars while riding. As shown below, we prioritize wireless headphones for this purpose.
In addition, it may be difficult or dangerous to change songs while cycling, which is why on-ear controls are so vital. Most cyclists prefer a relatively cushy, breathable ear cup design to stay well ventilated while exercising.
You'll also want to have fairly isolated sound quality while biking— While zooming across your local bike trail, you're bound to be affected by wind and a variety of other factors that may affect the sound quality.
Therefore, having clear, poignant audio delivery even in the face of continuous movement is imperative.
Below, we'll dive into some of the best headphones for cycling available. We understand that serious biking comes with unique challenges, so we took those factors into consideration.
After all, you shouldn't have to sacrifice listening to music while out on the trail. Here are some of the headphones for cycling outdoors or at the gym.
Best Headphones For Cycling Buying Guide
Without further ado, here are some of our favorite headphones for cyclists available.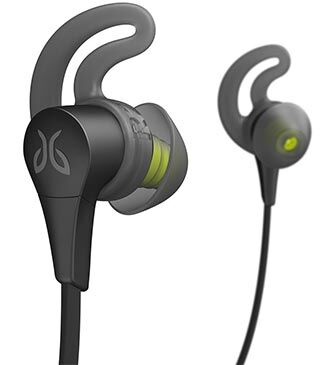 These Bluetooth fitness earbuds are well known for their affordable price point and comfortably crafted design. While they are not fully wireless, the cord to these headphones includes helpful track navigation and voice assistant controls for added flexibility.
Notably, these headphones have a waterproof grade. Therefore, if you get caught in a storm while cycling or otherwise, you won't have to worry about your headset wigging out.
The headphones are super lightweight making them well-suited for sticking in your gym bag or backpack. You'll find that these headphones come with 3 different sizes of memory foam tips to fit your individual needs.
There are also accompanying clips on the outside of the headphones to keep them stable while you ride. Though the in-ear design might not be what you're looking for, it allows you to continue wearing a helmet even while enjoying your music.
The connection is pretty stable, though admittedly, other options on this list have stronger hardware for this purpose.
I love how easy the wired remote is to use especially when it comes to adjusting the volume or using a digital assistant.
Notably, you can use the Jaybird app to adjust your headphones according to your sound preferences. There's also a variety of embedded EQ presets which are perfect for multi-genre use.
The battery lasts about 7 hours on a single charge. In terms of sound, these headphones sound pretty balanced other than a slight emphasis on the bass/low range.
However, you can easily tweak the sound to your liking using the compatible app.
Overall, these headphones are super reliable with their waterproof design for jamming out while working out.
The sound quality might not be the best available, but at least you won't have to worry about damaging these while outdoors.
Pros:
Balanced sound quality
Excellent connection
Waterproof build
Cons:
Somewhat unclear instrument distinction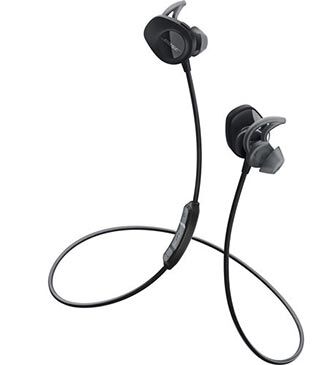 Bose is long regarded as one of the best audio brands in the business, and these wireless headphones certainly uphold that standard.
The in-ear headphones are pretty comfortable with their cushy ear-conforming coverings, and you'll also find that the headset is fashioned with ear clips as well making these super sturdy while you exercise.
While you can't adjust the cord length of these semi-wireless headphones, there is a clip on the cord itself for easy containment when it gets too long.
Since these headphones are designed for use while exercising, you'll get some deliberate noise leakage.
This way, you'll be able to focus on the environment around you while still staying in tune with your music.
Hence, this is a great pair of headphones to keep you focused while you're out on the trails. These headphones are also sweat-resistant making them truly an excellent fitness companion.
These headphones are super easy to pair and have auto-off features to save battery life when not in use.
The headphones battery lasts about 6 hours and the set comes with a carrying case making this set perfect for taking from one place to another.
The headphones deliver a pretty well-balanced sound output that's not overbearing for when you're out on the road.
However, if you're a basshead, this may not be the pick for you— The mids and highs are pretty similar to the level of low end.
Overall, these headphones are great for active use. While they might not be your pick for casual listening, the comfortable sweat-resistant design isn't something to take lightly.
You can get these headphones in striking aqua or classic black to match your personal sense of style.
Pros:
Comfortable design
Sweat-resistant
Embedded microphone suitable for taking calls
Cons: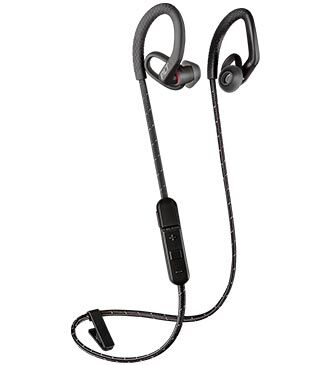 For a more budget-friendly solution, these sport earbuds are the perfect pick. They're definitely the most modestly priced headsets on this list, and make sense for anyone looking for a semi-wired exercise headphone that can be used without having to worry about being too gentle, this is a great choice.
These semi-wireless in-ear headphones are pretty comfortable despite their modest price. With the soft, silicone ear hooks, these headphones will stay firmly in place while you're working out.
Plus, the clips come in three different sizes so that you can adjust based on your own ear type.
There's also a clip on the cord part of the headset to ensure that it doesn't get tangled or in the way while you're working out.
The noise isolation is fairly stable and the design easily keeps the most of the ambient noise around you isolated.
As expected with the price point, these headphones have an average Bluetooth connection. While it might not be the most stable connection, it's enough to get by and rely upon for daily bursts of exercise.
You'll get about 6 hours of battery life with this headphone set with a full charge taking about 2 hours. Perhaps the best feature about these headphones is their durability.
The sturdy set is well made with water-resistant protection making it fully sweatproof for confident use while exercising.
The headphones can even be lightly washed under tap water in case you drop your pair while out on the trails. In terms of sound quality, the bass is clearly boosted. For the price, the mids and high frequencies are impressively clear.
While these headphones might not have the best sound quality compared to other sets on the list, their durability and affordability makes up for it in full.
Pros:
Sturdy fit
Great for bassheads
Flexible sizing options
Cons:
The signal connection isn't always the most stable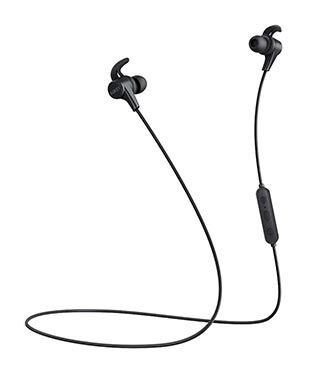 These sleek looking earbuds fit the bell with their sturdy construction and fitness-ready design.
The headphones are notably one of the more affordable options on the list and are a great pick for bassheads with their heavily emphasized low end.
Despite the affordability, these headphones are surprisingly great at holding down a stable connection.
The semi-wired pair also has an embedded remote that makes it easy for you to adjust the volume of your music without having to alter your phone or audio device.
These headphones can hold a pretty good battery life in terms of wireless headphones with about a 7-hour capacity when fully charged. In terms of sound quality, these headphones are focused on the bass.
Sometimes, that means overtaking mid and high frequencies, but that still makes these headphones an excellent choice for users who need booming bass to focus on their workout.
The auto-connecting features are pretty strong, making the pairing process extra efficient.
While these sweat-resistant headphones probably aren't going to be your choice pick for critical or casual listening, they're excellent for use while cycling.
For an affordable, dependable pair of headphones, you can't get much better than these.
Pros:
Water-resistant
Magnetic earbuds
Auto-connect design
Cons:
These lightweight headphones offer great sound quality with their unique bone conduction design. The durable headphones wrap around your neck and connect to your phone or audio device via Bluetooth making for a semi-wireless connection.
This hands-free build is perfect for focused listening while you're off on the trail.
These headphones are well-suited for just about any fitness-intense activity, including cycling.
Notably, these wireless headphones have a pretty impressive battery life of about 8 hours of continuous playback.
Perhaps the best part about these headphones is the unique bone conductivity design— You'll still be able to hear your music, but also be aware of the world around you.
This is perfect for staying safe while biking down a crowded trail or otherwise.
The sound quality is pretty well balanced, a delivers a clear signal for both music and podcasts.
You'll also get optional earplugs with your set to improve your sound quality and provide for some makeshift sound isolation for when you don't need to divide your focus.
The dual-microphones embedded in the headset also makes it easy for you to make and take calls during your listening session.
These headphones might vibrate a bit more than you may be used to while in use, but that's somewhat expected with its unique bone conduction design.
Overall, this is the best pick for anyone who still wants to be connected to the world around them while biking.
These durable headphones are truly built to last and provide excellent sound quality for casual listening.

Since the headphones don't rest on your ears, it's safe to say that you can sport these comfortable for hours on end.
While the unique structure of these headphones might not be for everyone, it's great for anyone looking for a fresh approach on plugged audio.
Pros:
Bone conduction design
Fully waterproof
Slim, lightweight design
Cons:
Vibration might be too intensive for some users
Conclusion
Though all of these headphones would make great choices for cyclists, there is one in particular that stands out to me based on my individual preferences.
That being said, I'm going to have to go with the Aftershokz Aeropex headphones.
While cycling, I think it's important to be somewhat aware of the sounds around you, especially if you're on a crowded biking trail.
Since these headphones don't sit in your ear, you're able to fully enjoy your music and still remain alert at the same time— It's truly the best of both worlds for cyclists.
At the end of the day, you can't go wrong with any of these headphone picks while biking. Happy listening!