Earbuds are the go-to audio solution for day-to-day use for many people.
However, in this case, one size does not fit all, and many people can't make some pairs of earbuds work well for their ears. This is often the case with people who have small ears.
Fortunately, with so many options on the market, there is a solution for such users, too.
Best Earbuds For Small Ears Buying Guide
Below we'll be taking a look at a few options that work well, and they tend to take a slightly different approach to the "small ears" situation. Without wasting any more time, let's dive into the earbuds themselves.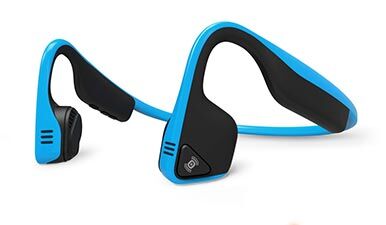 If you've got small ears and find choosing a pair of headphones difficult because of that, Aftershokz may very well be the solution you've been waiting for.
The Titanium Mini Wireless takes a completely different approach to all the other options we'll be talking about.
How you may wonder?
Well, they don't insert anything in your ear, and instead, rely on bone conduction. And yes, it works very well.
The Titanium Mini is a pair of headphones that sit in front of your ear as compared to inside it, and it stretches back, over your ears and behind your head.
Not only does this resolve any ear compatibility issues, but it also does another thing – it keeps your ears free so you can hear what's going on around you.
The bone conduction technology works better than you might expect it to, and it manages to deliver excellent sound.
The dynamic range is rather wide, and you're looking at rich, but not overpowering bass. One thing to note, like their bigger brother, the Trekz Titanium Wireless, there is some slight sound leakage when you're using the Titanium Mini Wireless.
The fit is great, as the headphones are lightweight and use your ear shell to sit on, instead of hanging from your ear like a typical earbud.
The design also means that you can use them for sports activities such as working out or running, as they'll stay put and sweat won't do any harm to them. The IP55 certification adds a bit to this, too.
When you factor in that you're also looking at Bluetooth and pretty good battery life, these are an excellent choice for small ears.
Pros
Great fit
IP55 resistant
Keeps your ears free
Cons
No sound isolation
They look a bit weird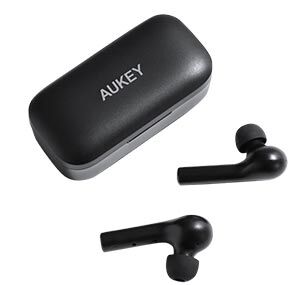 We can't blame you if you think the Aukey T21 look familiar – they're very similar to a pair of Airpods when you first take a look at them, just black.
But look closely, and you'll find a couple of critical differences that make them a better option for many, especially for users with small ears.
The first thing about the T21 is that they are truly wireless headphones that use rubber ear tips to sit inside your ear.
This would usually sound like a red flag when you're nitpicky about your headphones in terms of size, but they're very lightweight and stay put.
Even the extended stem of the earbud itself won't be any problem, and it doesn't add a lot of weight. The headphones are very comfortable, and you can use tips that suit your ear well.
While they don't have active noise cancellation (and at this price, we don't expect them to either), the passive isolation when you get a good fit does drown out quite a lot of the environment, even when you don't push the noise to a high level.
The sound quality is decent, but nothing to write home about. Like a lot of budget earbuds, the bass is slightly overemphasized, but aside from that, they're okay.
They get quite loud if you want them to, but at higher noise levels there's obvious sound imperfections that you can easily pick up on – something we aren't surprised about considering the price.
Last but not least, the case feels cheaply made, with a flimsy lid that could've been made better.
It does give you additional battery, which combined with the 4.5 hours of the earbuds themselves, should cover you for a good while.
Despite apparent downsides though, this pair is still a solid option among cheaper earbuds. In fact, it's one of our recommendations for earbuds under $30.
Pros:
Lightweight design
Great passive sound isolation
Compact case fits in your pocket
Cons:
Case feels cheap
The sound could've been better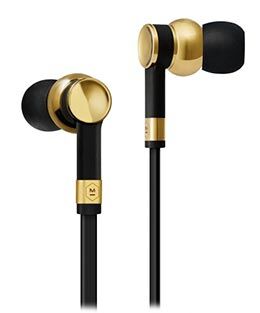 Master & Dynamic are well known for their high-end headphones, made with high-quality materials and excellent sound.
They tend to cost a pretty penny, too, and the ME05 are no exception. The design is stunning, and even though at first sight they might not look like the best option for small ears, they fare better than you think.
We have to start things off with the design – it's just stunning. Master & Dynamic have opted for solid brass here, which is not something you see on a lot of headphones.
The reasoning behind this is that brass is dense, which helps isolate vibrations very well. Oh, and it feels a lot higher quality than plastic or aluminum, too.
What surprised us was that even though the headphones are heavy when you put them in your ears, all that weight seems to vanish and they just fit and feel great, even if you have small ears.
They also come with a few sizes of silicone tips in the box, too, which helps you find a fit more easily.
The sound is pretty good, but if you have well-trained ears, you'll know that it wasn't the primary thought for Master & Dynamic – that honor goes to the design.
However, they're very relaxed and smooth sounding, and there's plenty of detail in the midrange.
Pair this with the excellent passive sound isolation they have, and you're looking at an excellent day-to-day headphone.
If you can afford them, of course, because they're very expensive. But all that money does get you unparalleled comfort in a pair of earbuds that look pretty cool.
Pros
Stunning craftsmanship and design
Excellent fit and feel

Smooth sound
Cons
Very expensive
Heavy
The cable could be better
Best Earbuds For Small Ears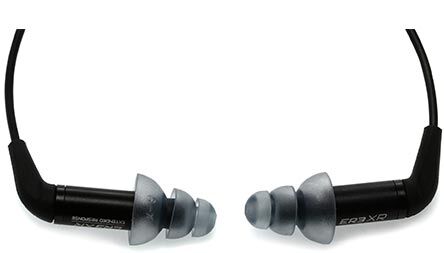 Etymotic Research has been making high-quality in-ear headphones for a good while, and the ER3XR is possibly their best choice for users with small ears who want a good fit from their earbuds.
They sound rather nice, and have excellent noise isolation, even though they're passive.
The first thing you'll notice about the ER3XR is the design. They're made to be extremely lightweight and sit deep inside the ear canal.
This not only helps "point" the sound towards the right direction, but it also makes for a much more comfortable fit, and of course, sound isolation. And that sound isolation is better than almost anything else that isn't ANC, which is a great thing in certain situations.
They do come with various tips, including triple flange, and foam tips, so you'll find a good fit in any case.
Another thing we love is the removable cable. The earbuds come with MMCX connectors which allow you to quickly remove the cable and swap it out in case you damage it in any way.
Now to what most audio enthusiasts have been waiting for – the sound. The ER3XR does have somewhat flat sound, but the bass has a bit more oomph to it, which is something you'll feel very well thanks to the great fit and isolation.
The midrange and highs are great, too, with good stereo separation and a decent sound stage. They're overall a great choice if you won't be using them for sports or working out because they don't have any isolation and you may very well destroy them by doing so.
Oh, and you should be prepared to pay a pretty penny, but they're very much worth it.
Pros
Unparalleled sound isolation without ANC
Great sound and wide soundstage
Lightweight with a comfortable fit
Cons
Somewhat expensive
No water or dust resistance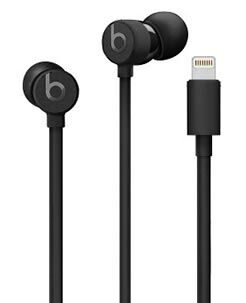 Beats by Dre, even after they've been acquired by Apple, have somewhat of a reputation to say the least.
They're known as bass-heavy headphones that are an absolute overpriced disaster for anything else, especially with their higher-end models.
However, the urBeats 3 try to take that down a notch and deliver a good, comfortable experience for just about any user.
Do they succeed?
Let's find out.
The first thing you'll notice is the design. They look nice, regardless of which color you go for. The combination of matte and glossy plastic is appealing to the eye, and the flat cable helps with tangling when you put them in your pocket or backpack.
The box also comes with a couple of various ear tips and wingtips, which helps find a good fit, even if you have smaller ears. The mic is also decent, but it picks up a lot of cable noise, which may be an issue.
The sound, however, is far from good. Beats have always been advertised as bass-heavy headphones, and if that's what you're after, they have plenty of bass to throw around.
That's not to say it's good, but it's intense and punchy, even though it feels unrefined. And that's about it.
The mids and the treble fall apart, and the low end is just overpowering. The soundstage is basically non-existent, and everything sounds somewhat squashed.
Overall, even though they're certainly not as outrageous as other Beats models, the urBeats 3 are hard to recommend.
This is especially true when you've got a host of more wallet-friendly models that deliver better sound, better quality, and better fit.
Pros
They look and feel nice
Plenty of ear tips options in the box
Strong and punchy bass
Cons
Terrible midrange and high end
The microphone picks up a lot of cable noise
Conclusion – Best Earbuds For Small Ears?
If you are in the market for a pair of earbuds for small ears, we would recommend that you go for the Etymotic ER3XR.
Yes, they might not be the cheapest ones on the list, but when it comes to fit and sound quality, nothing even gets close. They're lightweight, they have incredible sound isolation, and the sound and soundstage are just excellent. If they fit your budget, by all means, go for it.