If you have a passion for music, it's safe to say you prefer listening to a high-quality sound. What better way to do so than to get a top-notch bookshelf stereo system?
And if you love blasting out your favorite tunes, a powerful stereo system is a no-brainer.
It can also make all the difference when playing video games and watching movies.
Here's everything you need to know to get started on finding the best bookshelf stereo system for your needs.
Best Bookshelf Stereo Systems 2023
To bring you this unbiased guide, I've reviewed a fair share of bookshelf stereo systems. Here are some of my personal favorites that I'm sure you'll love too.
Best Budget Bookshelf Stereo System 2023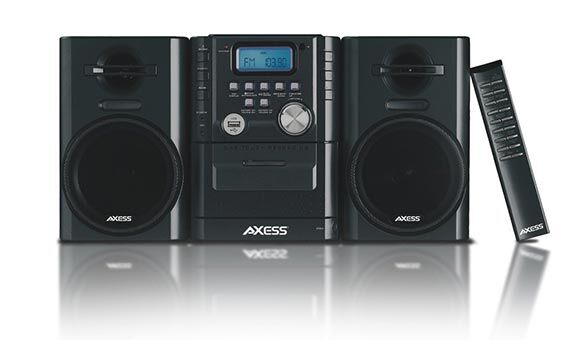 AXESS MS3912 is a mini stereo system that's ideal if you're looking for something classic that will reproduce a good sound. It's also a great option if you're on a tight budget, or simply don't want to spend much on a stereo system.
That said, it's not particularly innovative and modern-looking. It's a type of system that has been around for years, but it's still here because it works really well.
I actually got it for my mom a couple of years ago, as she wanted a simple stereo for playing CDs and listening to the radio. She also wanted to play her old cassettes, which very few systems support these days.
She hasn't had any problems with the system so far, so it was a pretty good purchase.
AXESS MS3912 has a cassette recorder, CD player, and an AM/FM radio tuner.
It also has an audio jack for headphones, an auxiliary input (AUX) for various sound sources, and a USB port for playing MP3 music, so it's not completely old-fashioned.
It does lack wireless connectivity options like Bluetooth. So, don't expect to connect it to your smartphone or other devices without a cable.
This stereo system is portable and runs off batteries, which makes it perfect for any outdoor adventure. It has two attached speakers with an audio power of 12W.
You can easily detach them and place them separately from the stereo. As with almost every system, you get a remote control, which is very user-friendly.
Have in mind that you don't get AC/DC batteries in the package, so don't flip out when you unbox the system. Keep a few at hand to immediately play your music.
Pros:
Quality, consistent sound
Cassette support, ideal for retro enthusiasts
Very affordable
Cons:
Doesn't support Bluetooth or Wi-Fi connectivity
Not particularly loud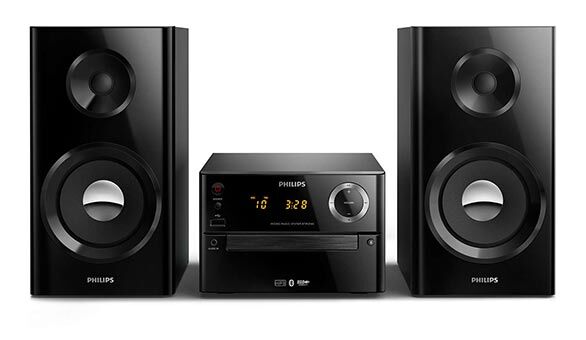 The Philips Bluetooth Stereo System has fewer features than the AXESS above but supports Bluetooth connectivity. You can easily connect any Bluetooth-enabled media player, such as your smartphone, laptop, tablet, iPad, and other devices.
You can also use a USB input and a CD player to play MP3 music. What I personally didn't like very much was the Autoplay feature for CDs.
As soon as you insert a CD, it automatically starts playing. That's a default setting that you can't change.
It can be a bit of an annoyance, to say the least. I'll never forget my brother coming home one day with a CD he'd just bought and accidentally blasting it out at maximum volume while I was asleep. Not a good thing that Autoplay.
There's an Audio In (AUX) for connecting media players via cable, but there's no headphone jack, which may also be a bummer.
There's also an FM radio that features digital tuning with preset stations. You can easily memorize your favorite stations for a higher level of convenience.
Speaking of presets, you have only five equalizer presets: Rock, Pop, Jazz, Techno, and Samba. You can't manually make any adjustments to bass or treble.
However, despite these few drawbacks, this shelf stereo system reproduces a very satisfactory sound. The speakers have a 15W power output, which isn't very loud, but the sound is very pure and crisp.
That's all thanks to the dual amplifier and the Philips' MAX Sound technology. The former amplifies the sound, ensuring that powerful bass doesn't negatively affect the quality of sound.
The latter amplifies both volume and bass, providing a perfectly-calibrated boost that results in a sophisticated sound.
Pros:
Pure, crisp sound with a powerful bass
Bluetooth connectivity
Dual amplifier
Cons:
No headphone jack
Autoplay CD player
A bit expensive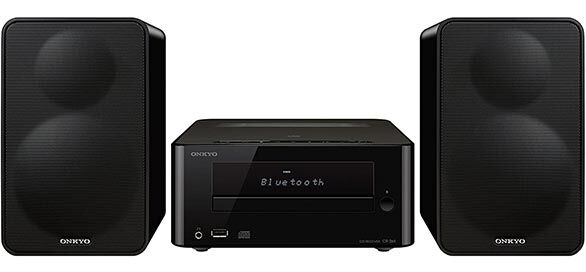 The Onkyo CS-265 is also very compact, but slightly more expensive than the Philips above. However, it does come with some innovative features that might just make it a great buy.
It has built-in Bluetooth, which is ideal for seamlessly connecting your mobile devices. It also features NFC technology support, so you can connect your NFC-enabled smartphone or tablet without a hitch.
There's a USB port for connecting various media players, as well as a headphone jack and an analog audio input. There's also an AM/FM radio with a whopping 30 preset stations.
You can't change the stations without the remote, so don't lose that little guy if you often listen to the radio.
When playing CDs, you can choose from Normal, Random, and Repeat playback modes, while the Repeat mode works for tracks, folders, and the entire disc.
What I absolutely love about the Onkyo CS-265 system is its two-channel configuration that gives you up to 40W of power. Now we're talking!
You can enable Super Bass, control the tone, and enjoy the digital amplifier that ensures both a powerful and clean sound.
And there's literally no distortion, cracking, or anything similar while rocking it out at maximum volume. I was quite surprised to hear such a big and crisp sound coming from such a compact system.
This bookshelf stereo system looks very elegant and stylish, so it will fit perfectly in an office, living room, or even your kitchen. As long as the room is small or medium-sized, you'll be able to enjoy a brilliant sound.
Pros:
Fantastic sound at any volume
Two-channel Super Bass configuration
Bluetooth and NFC compatibility
Cons:
Some users reported problems with the CD player
Can't change the radio stations without the remote
Best Bookshelf Stereo System 2023 For Value
The KEiiD Stereo Shelf System is a very retro yet modern stereo, with a wooden frame that fits beautifully with any wooden furniture. As I see it, it's a fantastic stereo that also serves as home décor.
Its central stereo part with a 5-inch display comes from a Volkswagen car, so you know it's robust and high-quality. Its radio even comes with a telescopic antenna for picking up radio stations – just like you do in a car. Pretty cool, right?
The system supports any and all sound sources. There's your regular FM radio with up to 18 presets, and a CD player with Shuffle and Single-Repeat modes. You also have a USB port, an auxiliary input, an RCA connector, and an SD card slot for cards of maximum 32 GB.
You can also connect various media devices via Bluetooth to wirelessly stream your music. The system even has a built-in microphone for hands-free calls via Bluetooth. I tried that feature and absolutely loved it!
The KEiiD Stereo Shelf System features two speakers, each packing 25W of power. They reproduce a mesmerizing sound that's particularly impressive for home theater entertainment.
You can easily control the treble, bass, and mid-range features to adjust the sound just how you like it. You can do that in the equalizer settings, which feature Rock, Jazz, Pop, Classic, and Speech modes.
All of these features are much more than most similar systems offer these days. Some are even more expensive yet offer fewer features than this one.
Depending on your budget, you may consider this system expensive, but it may just be worth every dime.
Pros:
High-quality, elegant design
A lot of connectivity options
Excellent sound with many configuration options
Cons:
The power switch on the back restores the default settings
Expensive, but good value for money
Best High-End Bookshelf Stereo System 2023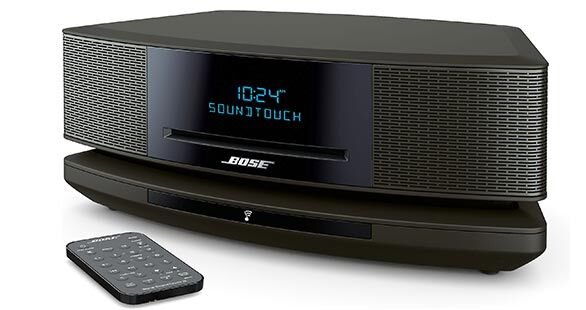 The Bose Wave Music System IV has the richest, most realistic, most room-filling sound I've ever had the pleasure to hear from a shelf stereo system.
The device is incredibly compact, yet delivers a high-performing sound that's truly exceptional, thanks to the waveguide technology. And the 60W speakers are built-in, making it look even more compelling.
It has a built-in AM/FM radio tuner with 12 presets, and a CD player with modes for repeating, shuffling, and continuous play. It comes with a headphone jack and an AUX input for connecting any mobile device.
This Bose Wave system also lets you set dual alarms. I know what you're thinking – who needs an alarm clock when you have a smartphone? Well, isn't it nicer for the radio to wake you up? For me, it's more effective, as I'm a very sound sleeper.
Now, this particular Bose product doesn't have Wi-Fi compatibility. I hear you, that's not particularly convenient if you're looking to connect mobile devices without cables.
There's also no built-in Bluetooth, but you can use a Bluetooth adapter if you want to throw away those auxiliary cables.
There's not a single button on this stereo system, which is why it looks very sleek and sophisticated. There's only a large display that automatically dims at night, but you can change its brightness anytime.
Everything you need to set it up and enjoy your music is on the remote. The remote has a credit card-style design, which matches the system's minimalistic design.
This is the most expensive system on this list. It may not seem like it's worth the price, giving its few connectivity drawbacks, but the sound quality it reproduces is unparalleled. In my humble opinion, it's definitely worth it.
Pros:
Phenomenal sound quality
Sleek design with built-in speakers
Dual alarm system
Cons:
No Wi-Fi connectivity
No built-in Bluetooth
Quite expensive
What Is A Bookshelf Stereo System?
A bookshelf stereo system is a home stereo system that easily fits on a shelf and gives you a clean, rich, powerful sound that fills the room.
Every shelf stereo system consists of three main components:
A stereo receiver
Sound sources
Two built-in or individual speakers
A stereo receiver is an amplifier that usually has a built-in AM/FM radio tuner. A sound source can be that radio tuner, or any kind of an external source, such as a CD player, record player, turntable, or other media players.
So, you can connect a shelf stereo system to practically any sound source (even your smartphone) to enjoy a marvelous sound.
Things To Look For In A Bookshelf Stereo System
Before you go and buy the first stereo system that anyone recommends, you need to know what to look for. What's useful for your friend may not work for you.
Here are the most important features to consider.
1. The Quality of Sound
Pretty obvious, isn't it? But how can you determine which system reproduces the best sound, especially if you're buying it online?
You need to check the audio power, that is, the RMS (Root Mean Square). It shows the system's highest wattage that wouldn't compromise the quality of sound.
It's the peak at which you should genuinely enjoy your music.
You should also check the frequency response, which is a graph showing a range of audio frequencies that a loudspeaker can reproduce.
I always look for a flat line, because that indicates the same volume on all treble and bass frequencies.
2. Type of Music You Listen to
Do you generally listen to very loud rock and roll music? Or do you prefer a more moderate sound of any other music genre? This should also help you choose the right stereo system.
The audio power plays a big part here as well, but you can also ask your vendor about music types directly.
3. Connectivity
Most bookshelf stereo systems come with audio jacks and USB ports for connecting various devices like PCs, laptops, tablets, TVs, and smartphones.
But nearly all systems nowadays also come with Bluetooth or other wireless connectivity options. That's one of the top features on my priority list because I can finally say goodbye to messy, entangled cables!
4. The Size of the Room
Some stereo speakers perform much better in a bigger room, while others can reproduce a perfect sound no matter the room size or their positioning.
So, consider the available space, especially if you plan on buying a system with individual speakers. After all, you'll need space to put them.
Conclusion
While all of these bookshelf stereo systems are brilliant, my personal favorite is the KEiiD Stereo Shelf System. I have it at home and couldn't be happier with its performance.
The sound is remarkable, consistent at any volume and setting, and you can fine-tune it to your preferences. You can seamlessly connect any media device, never worrying about any hiccups.
I also love vintage stuff, so I instantly fell in love with the design, which doesn't disappoint in regards to stability and reliability.
If you're a true audiophile, I highly recommend the KEiiD, but you literally can't go wrong with any of these other systems.